Marketing Advertising Support
Weekly Radio Show: Record at KRLN in Canon City. Advertise your special event, business or organization. It's a wonderful opportunity. Call the office today to schedule your spot or be a host.
Print Media: Weekly, full-page advertisement in the Canon City Daily/Shopper newspaper with a focus on Chamber and Florence Merchants members only, on a rotational basis. Please bring us your business logos for print.
Video Media: Your Chamber membership gives you a deeply discounted short video clip of your business, products or service by Galaxy Media. You can share in your business emails or Facebook sites. Longer videos can be produced. Call Dillon@719-766-2004 or Zach@ 719-431-9494
Brochure Racks: Prominently placed business card racks for your business cards. Please drop off your cards for placement.
Tourist information room: for your business brochures and happenings. Please drop off your materials to the office.
Main Street Flier Kiosk: YOUR event advertisement in the Community and Tourist Kiosk – Bank parking lot on Main Street and Pikes Peak.
Website: *NEW website! Current members will be listed with a link to YOUR website so you can control YOUR business information and updates. We encourage all members to create their own business website. Wix, Squarespace and Weebly have simple drag and drop formats with a few advertising conditions, for free.
Event Support: Partnering with your business with some of our events. Win/win for all!
Grand Opening, Ribbon Cuttings

: Let's celebrate your business openings and mile markers. The Florence Chamber has both event and Liquor insurance for a $75.00 Let's have fun!!
Facebook page: for Chamber members and area events
Digital Media:

partnering with Fremont 360 Media allows members to put their events, information on the Fremont 360 weekly e-blast, a digital magazine plus, your information is downloadable from the Fremont 360 app for local tourism.
Office Meeting Space: Available to Members only for meetings. conferences, small gatherings including a small kitchen and large outdoor patio.
Print Discount: Partnership with Office Depot allows Chamber members a discount on their printing needs. Your discount card is in your membership packet.
Job Posting: We share area jobs available on both the "Florence Chamber" and "Find it in Florence" Facebook sites. The Florence Chamber website links into the Fremont Economic Development Co (FEDC) job board and can be mentioned on the weekly KRLN radio show.
Membership Meeting: Join us in our meetings, 1st Tuesday of the month at 5:30, Chamber Office. Want to share or speak, let us know. All meetings/workshops are open to the public.
Member Appreciation Dinner
Ribbon Cutting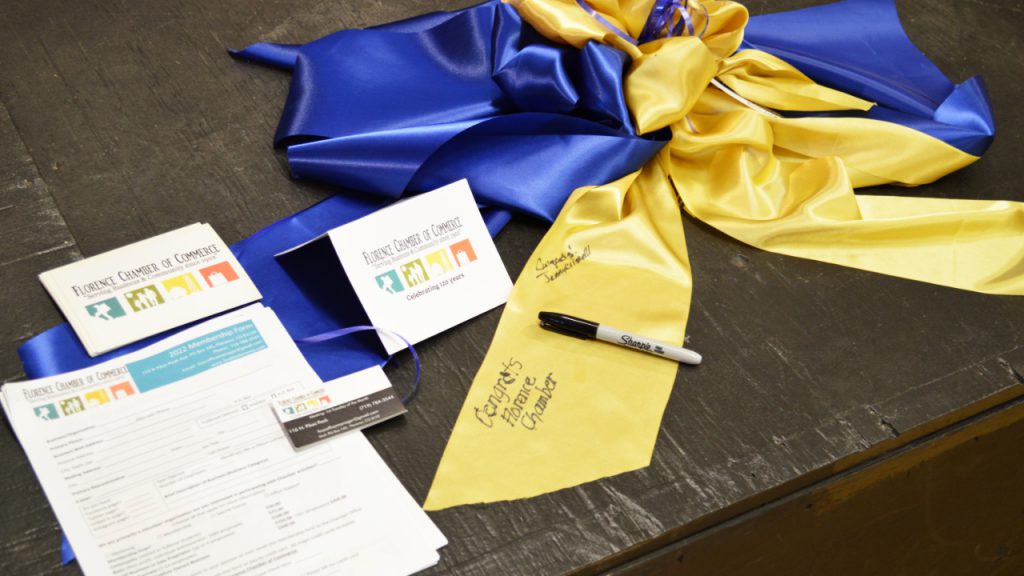 Although Chambers differ, they usually have the following goals: building attractive communities, ensuring the advancement of the community via a pro-business climate, promoting the community, representing the voice of the business community, and maintain a network of information.
We are here to help!